David Heilman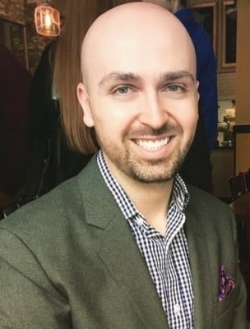 David Heilman
Professorial Lecturer
Teaching Faculty
---
Ever since beginning his graduate studies in clinical psychology, Dr. David Heilman has dedicated his clinical work and research to the well-being of the LGBTQ+ communities. While earning his doctorate, Dr. Heilman became an alumnus of the program, and earned his LGBT Health Policy and Practice Graduate Certificate from The George Washington University (GWU) in 2016. During these years, he also co-founded GWU's Center Clinic's Support and Identity Discovery Group for Gay Men, an interpersonal psychotherapy group dedicated to exploring gay male identity development, and how this development can be adversely impacted by internalized heterosexism. He also conducted trainings on LGBTQ+ competent care for other mental health clinicians and served as liaison in developing an affiliate partnership between SMYAL and GWU's Center Clinic in providing psychotherapeutic services to SMYAL's LGBTQ+ youth. During his pre-doctoral internship at Virginia Commonwealth University's (VCU) University Counseling Services, Dr. Heilman pursued a clinical concentration in LGBTQ+ concerns, and his primary outreach project consisted of aiding in the development of a new training program for VCU's MCV Hospital Staff on providing culturally competent care for their LGBTQ+ patients.
In addition to teaching, David works as a licensed psychologist in private practice in the District of Columbia's Dupont Circle neighborhood where he specializes in providing LGBTQ+ affirming psychotherapy. David also serves on the Board of Directors for Mid-Atlantic Group Psychotherapy Society (MAGPS). For more information, please visit www.davidheilman.com. 
---
David has co-formed an identity discovery psychotherapy group for gay men at the George Washington University's Center Clinic and is developing a training guide and group protocol to educate future clinicians about identity cohesion and supportively working with internalized homophobia.
PsyD '18 in Clinical Psychology, the George Washington University
2011-12 Postbaccalaureate Studies Psychology Program, Columbia University
MM '10 in Vocal Performance, The San Francisco Conservatory of Music
BM '07 in Vocal Performance, The Juilliard School